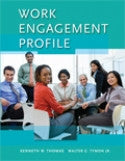 Work Engagement Profile
SKU: 4852-10
The Work Engagement Profile measures four intrinsic rewards—meaningfulness, choice, competence, and progress—that individuals receive directly from their work. Interpretive information for the scores of each intrinsic reward includes building blocks for improving and strengthening that reward. 
FEATURES OF THE WORK ENGAGEMENT PROFILE:
24-item self-scorable assessment is quick and easy to administer
20-page booklet includes interpretive information on scores and offers
actionable steps to increase levels of engagement
Kenneth W. Thomas and Walter G. Tymon Jr.