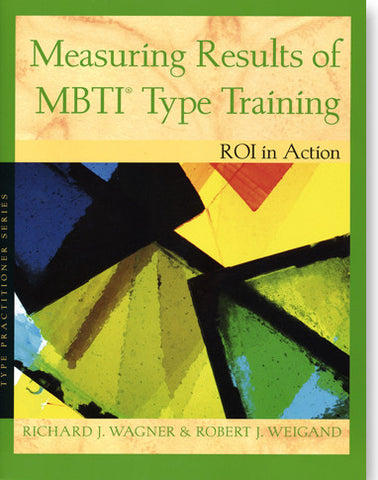 Measuring Results of MBTI® Type Training
SKU: 6175
In today's resource-strapped, results-oriented organizations, executives and training professionals urgently need to know—and show—the ROI on their training programs. But tracking down the answer has been out of reach for many—until now.
In this much-anticipated practitioner's booklet, Richard Wagner, a 20-year veteran of global HR consulting and professor of management at the University of Wisconsin-Whitewater, and Robert Weigand, director of management training and development at St. Luke's Hospital and Health Network, offer an easy-to-use instrument for ROI analysis: the Wagner-Weigand ROI Survey. Based on a model used at St. Luke's Hospital in Bethlehem, PA, Wagner and Weigand's work approaches the corporate holy grail of developing a methodology for determining ROI on HR initiatives using the MBTI® assessment.
Wagner and Weigand's ROI analysis includes the following five steps:
Determining behavioral changes that will result from training
Determining organizational results that might be improved
Examining how changes affect revenue and costs
Identifying data to support revenue and cost estimates
Linking behavioral changes to results being measured
The booklet includes an introduction to ROI and generalized discussion; exploration of the Wagner-Weigand model and theory; presentation of the ROI Survey and guidelines for its use; a sample case demonstrating actual application of the survey; and sample group exercises. With Measuring Results of MBTI® Type Training: ROI in Action, HR professionals and practitioners finally have the tools to not only understand and measure the ROI of their MBTI training but also establish tangible results that prove the effectiveness of their training program.
Richard J. Wagner and Robert J. Weigand