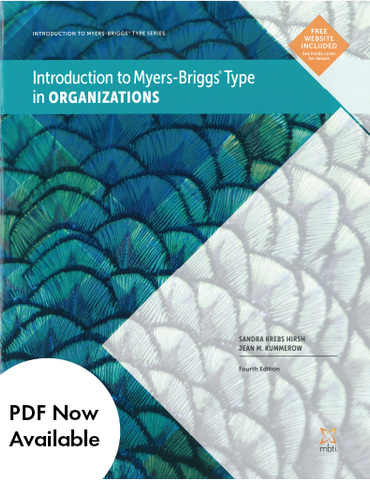 Introduction to Type in Organizations
SKU: 6539-10
Help employees understand their workplace preferences and reduce stress and conflict.
Introduction to Myers-Briggs® Type in Organizations (4th edition) provides important information about the effects of type preferences in work situations. This booklet describes the 16 MBTI personality types in the context of key workplace functions, such as leadership and work styles, problem-solving approach, and learning style. For each type, the booklet also provides information on avoiding potential pitfalls and suggestions for development. Finally, the booklet includes information around type dynamics and how each type's order of mental process can affect the way a person makes decisions and reacts to stress.
The fourth edition includes the following enhancements:
New design for a refreshed look and feel
Improved content organization and layout for better usability
Updated type language for easier comprehension of MBTI concepts
New graphic elements to reinforce learning
Complimentary access to an all-new companion website (see below)
Introduction to Myers-Briggs® Type in Organizations Companion Website
This all-new companion website presents MBTI type concepts in a dynamic digital format to enhance learning and retention. The website is intended to be used in conjunction with the booklet and is designed to help individuals explore further the MBTI framework after an initial training. Each Introduction to Myers-Briggs® Type in Organizations booklet purchased contains a unique access code that allows the owner to register for free, unlimited access to the website.
Replaces: Introduction to Myers-Briggs® Type in Organizations, 3rd Edition - #6139
Sandra Krebs Hirsh and Jean M. Kummerow
This resource is also available electronically in pdf format on your psychometrics.com assessment platform.