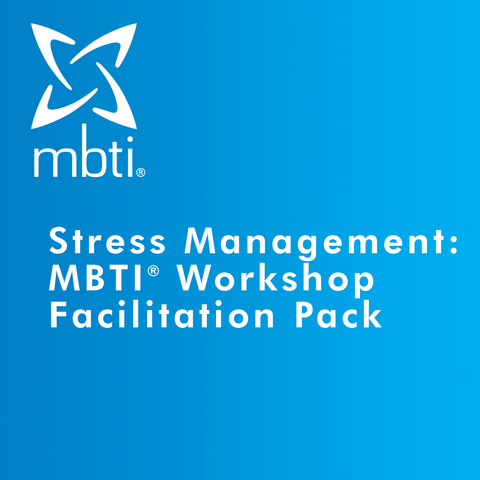 Stress Management: MBTI® Workshop Facilitation Pack
SKU: 6141EF
Help individuals better understand and manage stress to realize success.
In the workplace, individuals encounter stressors that can either undermine their performance or propel their success, depending on how they react to them. This workshop facilitation pack is designed to help new practitioners deliver MBTI training to individuals throughout an organization, enabling them to recognize the circumstances or events that are likely to trigger stress reactions and providing information and tips, based on their MBTI preferences, on how to deal most effectively with the challenges they present.
FACILITATION PACK CONTENTS
Microsoft PowerPoint presentation designed for a one-day workshop of lecture and activities
Facilitation notes to complement the presentation content
Train-the-trainer video that provides an overview of the presentation and tips for deployment
KEY FEATURES
Workshop-ready
Comprehensive and professionally designed with engaging visuals, the PowerPoint presentation* is designed for immediate deployment. Intended for a one-day workshop, it can also be adapted for shorter sessions.
Comes with expert guidance
If you are a newly certified MBTI practitioner, this workshop facilitation pack can make your job easier. The included facilitation notes and train-the-trainer video provide valuable context and support for a successful workshop.
All digital content
No need to lug around heavy binders. All facilitation pack materials are in digital format and can be purchased.
Buy once, use forever
This cost-effective training solution will quickly deliver a positive ROI. The purchaser receives full rights to use the materials indefinitely within an organization (or across organizations if he or she is acting as a training consultant.
REQUIRED SUPPORT MATERIALS:
The Stress Management: MBTI® Workshop Facilitation Pack is designed to be used in conjunction with the Introduction to Myers-Briggs® Type booklet. Each workshop participant should be provided with a copy of the resource.
*Please note that the PowerPoint presentation slides cannot be modified (except the Title and Agenda slides).