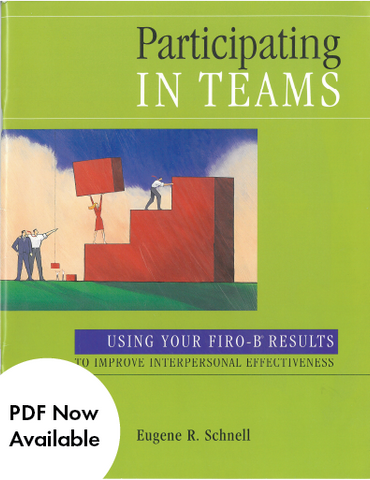 Participating in Teams
SKU: 2221-10
Help clients understand their FIRO-B® results in team situations

This workbook is for FIRO-B® clients and workshop participants, to guide understanding of their results "inside teams." The contents are interactive and speak to the individual and his or her experience in team settings. The booklet contains numerous activities and exercises in which participants are asked to plot their results and verify descriptions of their likely behaviors. Participants not only verify and fine-tune their FIRO-B® results but come to understand how the pursuit of their specific FIRO-B® needs translates into their contribution to team performance.
The booklet comprises six parts, each with a series of interactive FIRO-B®exercises for participants to complete:
Interpersonal Orientation to Teams: Working with Others/Working Alone, Satisfaction/Dissatisfaction with Teams, Team Role Potential
Team Leadership and Decision Making: Initiation Behaviors/Visibility as a Leader, Leadership Foundations, Decision-Making Approach, Decision-Making Challenges
Matches and Mismatches with Teams: Team Chemistry/Matches and Mismatches, Reactions to Team Mismatches, Behaviors in Mismatches, My Complaints About Team Climate
From Groups to Teams: Team Development Phases
Unraveling Team Problems and Conflicts: Strengths and Difficulties During Team Conflict, Common Responses to Conflict
Conclusions: Summary Understandings and Action Plans
Eugene R. Schnell
The booklet includes a foldout summary card for participants to complete in recording and assembling their understanding of what their FIRO-B® results mean in team settings.
This resource is also available electronically in pdf format.  To order the digital version please contact client support at 1-800-661-5158 or info@psychometrics.com