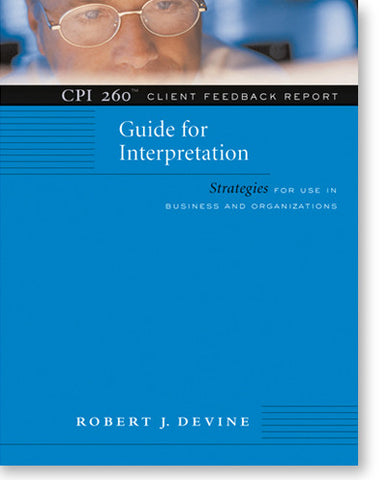 CPI 260® Client Feedback Report - Guide
SKU: 1928
Provides an all-in-one guide to interpretation of the CPI 260®

This interpretive guide is ideal for coaches, consultants, trainers, and other professionals in business settings who are new to the CPI 260® instrument, as well as for experienced users familiar with earlier forms of the assessment. It includes:
Insight into how the CPI 260® assessment works
Tips for introducing and administering the instrument
Basic information for interpreting results
Step-by-step guidelines for conducting individual and group feedback sessions
Examples of three different applications of the CPI 260® tool (in executive coaching, career management, and selection).
Packed with useful information, the guide builds on the author's expertise and practical business experience to provide user-friendly strategies for frontline practitioners.