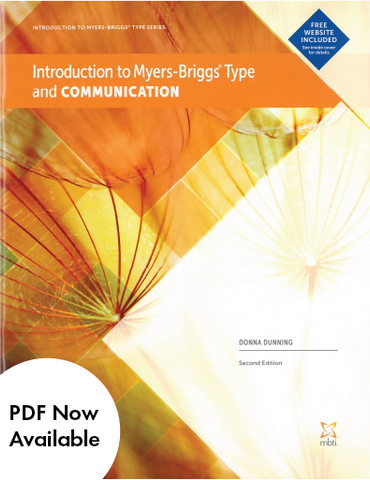 Introduction to Type® and Communication, 2nd Edition
SKU: 6289-10
Increase communication effectiveness in organizations.
With today's emphasis on team-based and collaborative management and decision making, communication can make or break an organization. This booklet provides a concise overview of communication skills and strategies, practical tips for communicating with others, and developmental tips for each of the 16 MBTI® types, as well as an introduction to differences in communication styles. The second edition includes the following enhancements:
New design for a refreshed look and feel
Improved content organization and layout for better usability
Updated type language for easier comprehension of MBTI concepts
New graphic elements to reinforce learning
Complimentary access to an all-new companion website
Introduction to Myers-Briggs® Type and Communication Companion Website
This all-new companion website presents MBTI type concepts in a dynamic digital format to enhance learning and retention. The website is intended to be used in conjunction with the booklet and is designed to help individuals explore further the MBTI framework after an initial training. Each Introduction to Myers-Briggs® Type and Communication booklet purchased contains a unique access code that allows the owner to register for free, unlimited access to the website.
Replaces: Introduction to Myers-Briggs® Type and Communication, 1st Edition - #6189
Donna Dunning
This resource is also available electronically in pdf format on your psychometrics.com assessment platform.