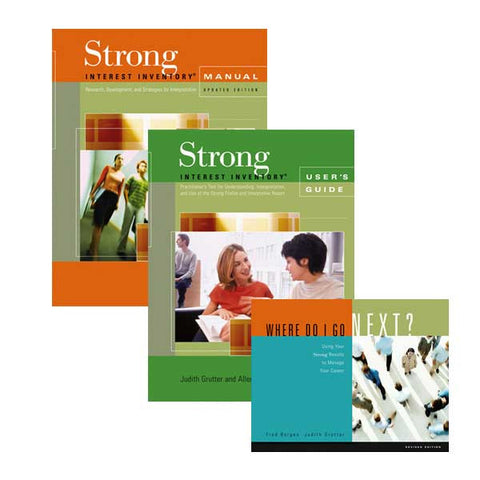 Strong Interest Inventory Certification Program – Required Materials
SKU: SCOL-BUNDLE
This bundle includes all three of required materials for The Strong Certification Program
INCLUDES THE FOLLOWING:
1. Strong Interest Inventory® Manual
2. Strong User's Guide
3. Where Do I Go Next?
1. STRONG INTEREST INVENTORY® MANUAL WITH SUPPLEMENT
David Donnay, Michael Morris, Nancy Schaubhut and Richard Thompson
EFFECTIVELY ADMINISTER AND INTERPRET THE NEWLY REVISED STRONG
The most comprehensive guide to understanding and administering the newly revised Strong. The Manual provides essential information on how the scales were developed, as well as extensive data on the outstanding reliability and validity of the assessment.

The new set of 260 occupational scales – which scales have been added, removed and revised
The relevance and importance of the update to reflect the changes in the contemporary world of work
Occupational Scale samples, O*NET™ Codes, and related job titles
Detailed descriptions of the General Occupational Themes, Basic Interest Scales, Occupational Scales, and Personal Style Scales, as well as the Administrative Indexes
Interpretation strategies
2. STRONG INTEREST INVENTORY® USER'S GUIDE
Judith Grutter and Allen L. Hammer
Hone your Strong skills with this indispensable practitioner's tool
Two preeminent authors and practitioners offer practical insights into administering and interpreting the Strong assessment in this must-have resource. An overview of the Strong and general strategies are just the beginning in this powerful tool. The guide goes deeper to discuss interpretation strategies for especially challenging profiles and client-specific approaches that work. Answers to frequently asked questions and a set of reproducible masters round out this indispensable tool for new and experienced users of the Strong instrument.
3. WHERE DO I GO NEXT?
Fred Borgen and Judith Grutter
Help clients focus and stay motivated during their career search
This interpretive booklet enables clients to work through their Strong results to better understand their career interests and provides expanded information to help explain their results on the GOTs and Basic Interest Scales. The booklet also supplies descriptions of the Personal Style Scales, with lists of preferred interests, skills, abilities, work tasks, and occupations to target the best career for your client.