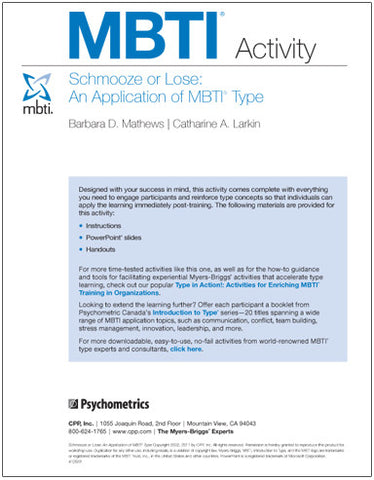 Schmooze or Lose
SKU: 4125EF
If you are looking for a fun and effective way to hammer home the importance of communicating with type in mind, you are sure to make an impression with this highly interactive activity! It's perfect for sales and marketing teams or for any group interested in improving their ability to influence and persuade others.
Participants will first consider their own function pair and how it impacts their response to different selling styles, and then will share their thoughts in small discussion groups. Next, the larger group will reconvene to play a game—Schmooze or Lose—that is designed to help them develop type flexibility and the ability to adapt their communication styles to influence "buyers" with different preferences. The game will focus on behaviors associated with the MBTI function pairs—NF, SF, NT, and ST. This activity is sure to bring out the competitive side of many, so depending on your group, you may want to consider fun prizes for the best "schmoozers" such as candy, caps, stickers, etc.
Facilitation Note: Keep in mind that this activity requires open space to allow attendees to move freely about the room, and enough chairs and tables to allow participants to have small-group discussions.
Objective: To develop type flexibility by expanding participants' MBTI communication style repertoire using the function pairs.
Time Frame: 55 minutes
Materials Included: Activity Instructions, Script, PowerPoint® slides, Handouts
Additional Materials Required: Adhesive labels (to be used as name tags)

Please note this product is only available in PDF format and will be delivered to you through email by our Customer Service department.
Barbara D. Matthews, Catherine A. Larkin