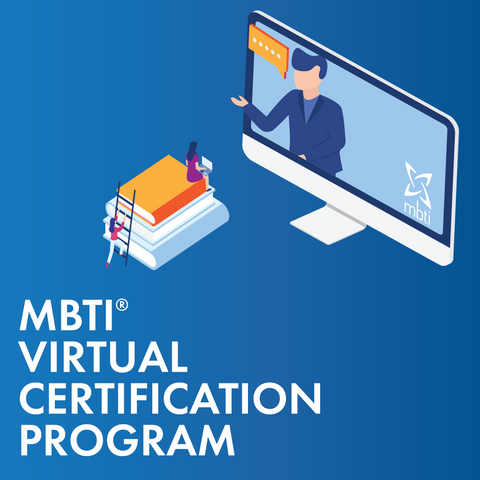 MBTI ® Virtual Certification Program: March 18-21, 2024
SKU: 2024MBTIVCMARB
GET CERTIFIED. BE IN DEMAND.
The MBTI® Certification Program maximizes your personal potential, giving you the expertise and tools to immediately make a positive and lasting impact on individuals, teams, and leaders.

The 4-day program is facilitated via Zoom Meetings.
Along with video conference sessions and group activities participants complete self-directed learning assignments as part of each day's instruction. 

Topics Include:
Improving team performance
Developing leaders
Managing conflict
Improving communication
Handling stress
Guiding career exploration
And many more!
CLASS AGENDA AND HOURS
Click here for class agenda and hours




PARTICIPANTS RECEIVE
Ready-made slide decks to run individual and team sessions
Live feedback videos and scripts
Interactive activities to help clients experience personality type
Copies of your own Global MBTI Step I and Step II Interpretive Reports
Global Participant's Resource Guide
MBTI® Global Step I and Step II Manual (PDF) 4th edition (6131-PDF)
MBTI® Step II User's Guide (PDF) 2nd edition (6672-PDF)
MBTI Form M - Introduction to Type (7th ed.) (6229)
Exploring Your Myers-Briggs® Type Workbook (6752)
Understanding Your Step II Results (4278)
MBTI® Step I Feedback Cards (6130)
MBTI® Step II Feedback Cards (6730)
MBTI® Certification Program Practitioner Tools - flash drive (6769-FD) 
Understanding & Working with Personality Type - flash drive (6470-FD)
Practitioner Tools
PREPARATION REQUIRED
To complete the study guide materials and to learn the foundational concepts prior to the workshop, approximately five hours of study will be required. At minimum, participants are required to complete all the pre-work listed in module one. Preferably, individuals should also familiarize themselves with the pre-work listed in modules two, three, four, and five to be adequately prepared for the course content.

for more information, contact info@psychometrics.com or phone 1-800-661-5158 
Register now!